The solution for digital signage
Full of possibilities, easy to use!
With a wide range of usage, including retail, hospitality, office and education environments, e-screen allows you to effortlessly reach and engage your audience by creating attractive and effective messages across multiple locations in real-time.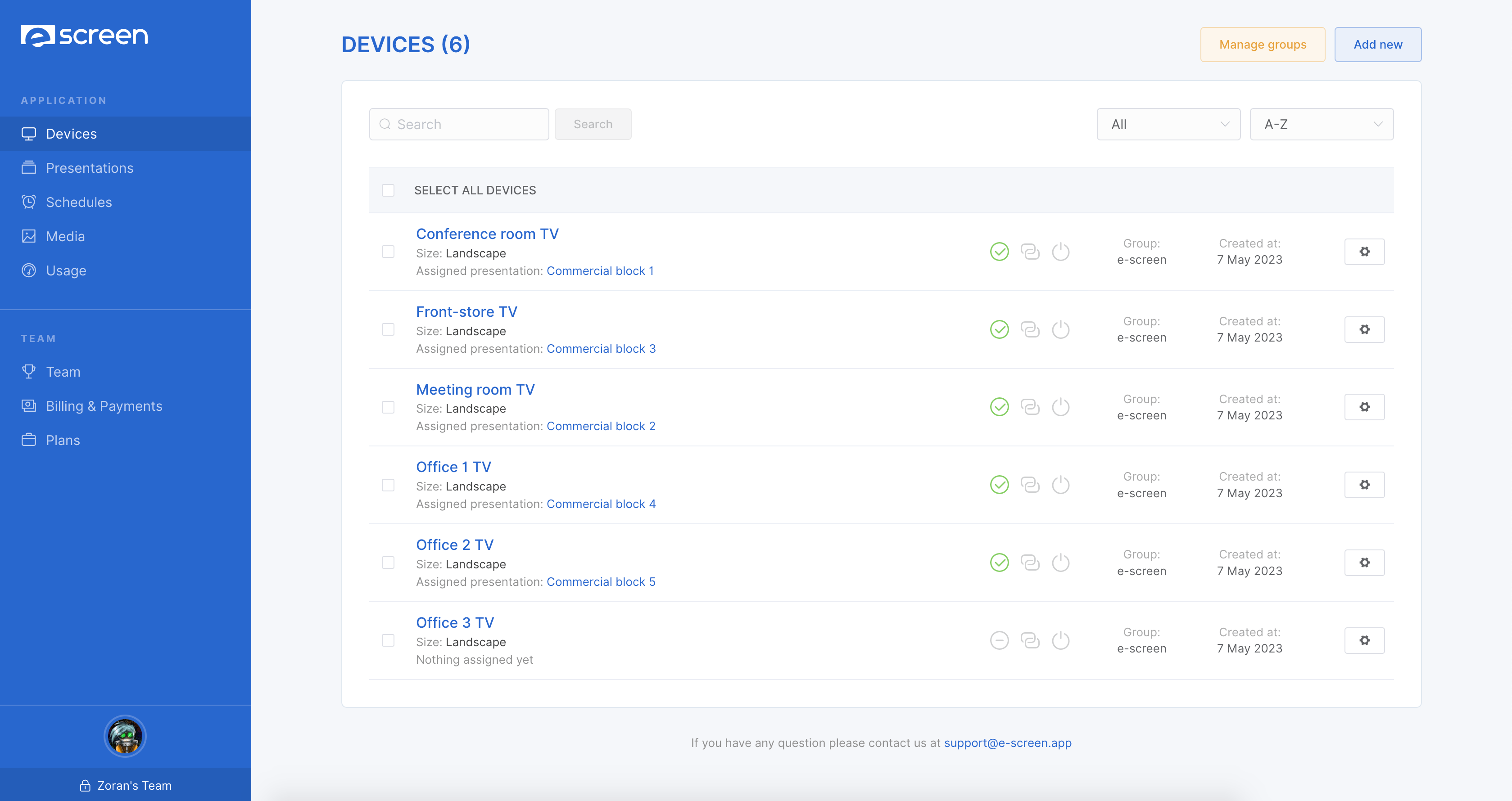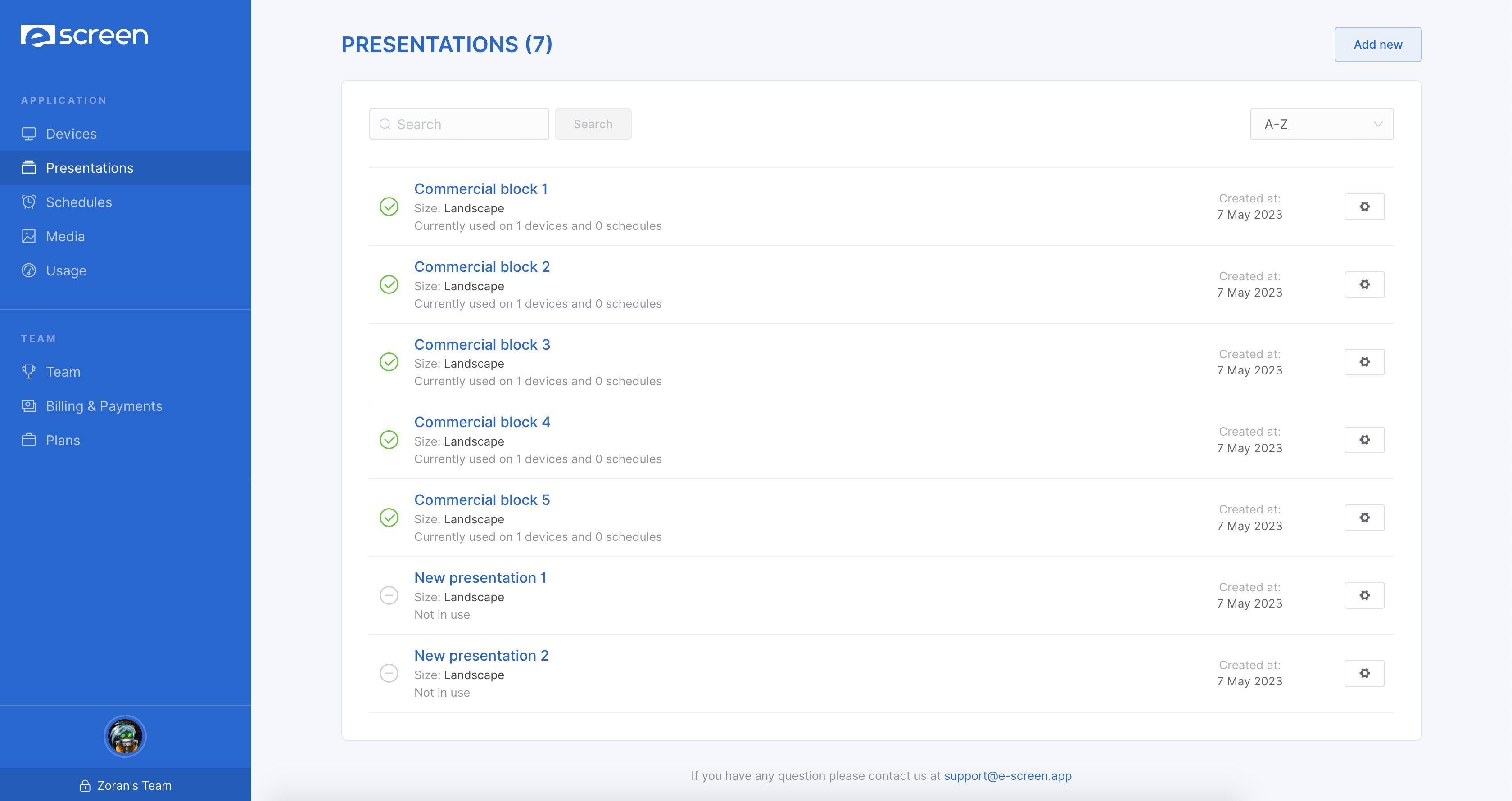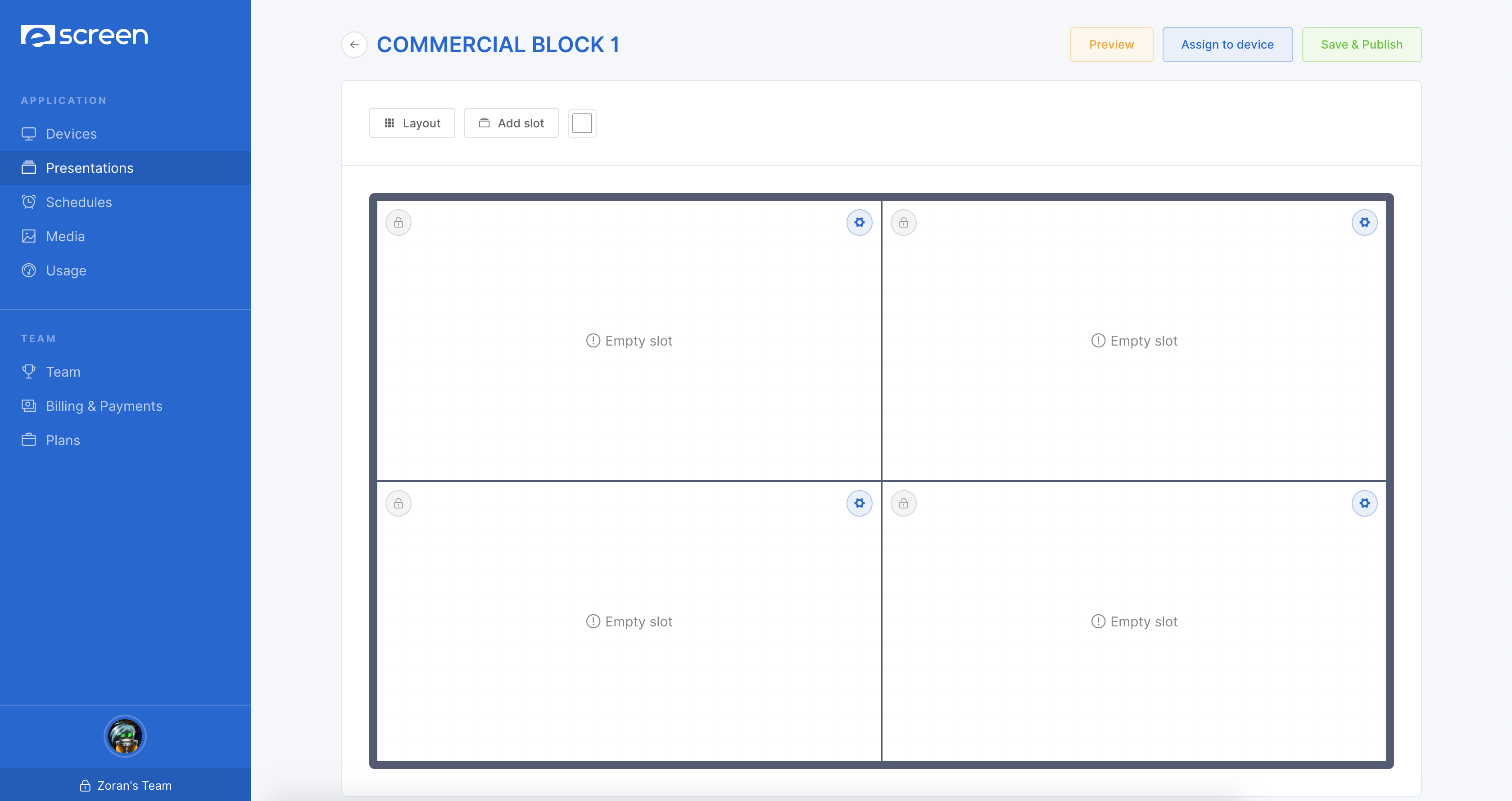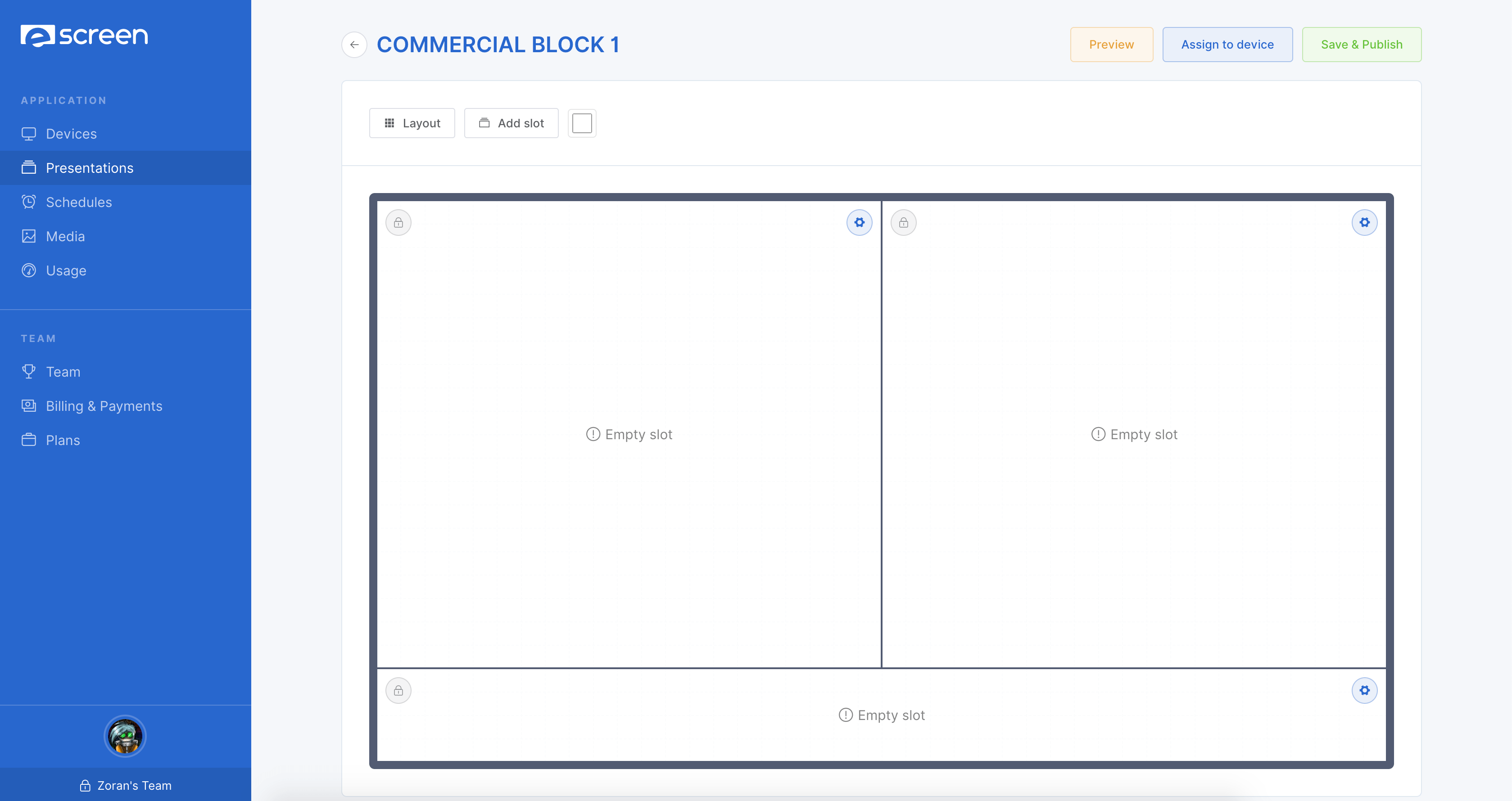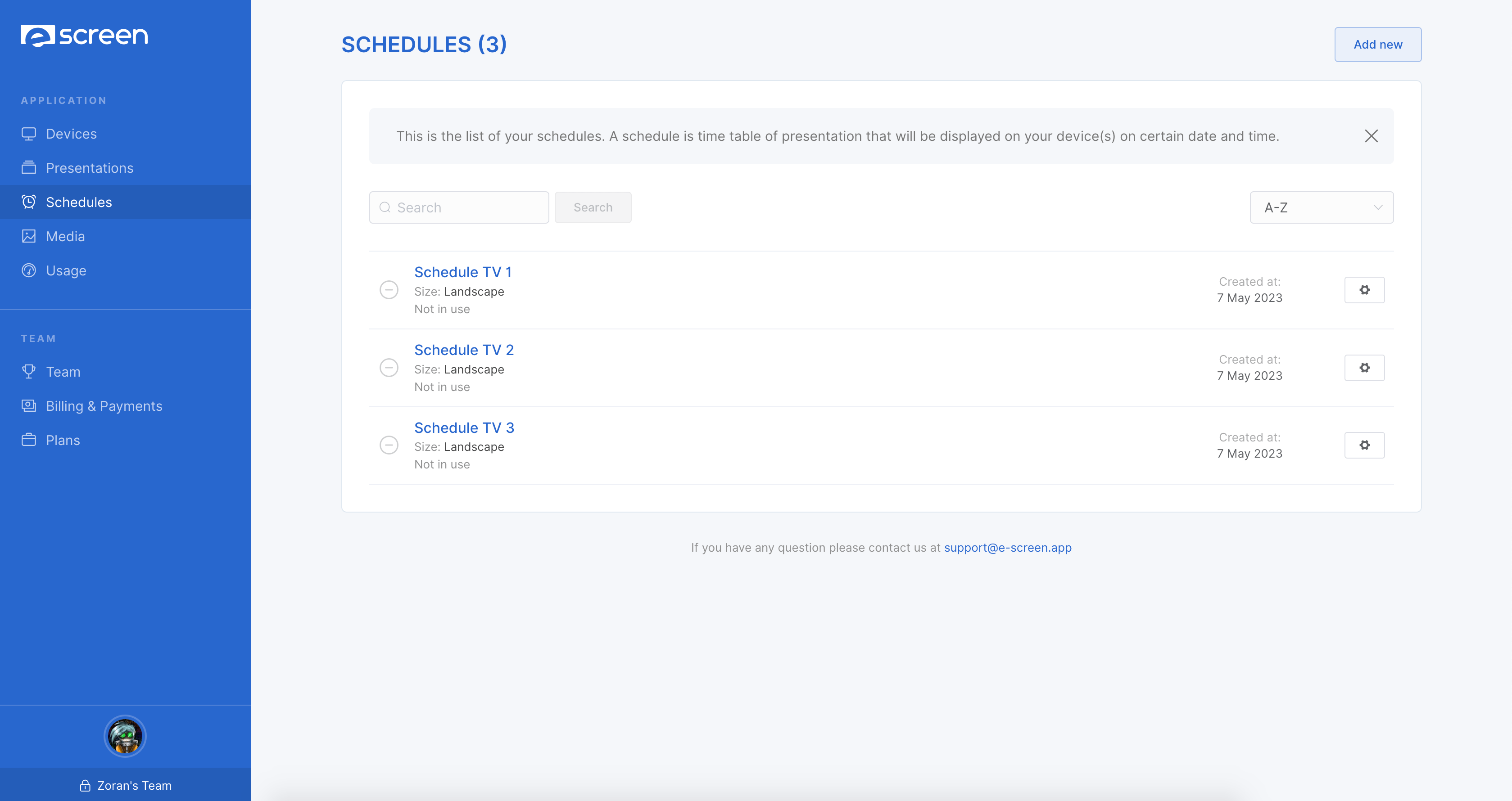 With a single e-screen account you can manage a vast number of remote screens and update content with a few clicks, organize your screen layouts and make scheduled displaying schemas.
1
Create an account on e-screen
Register an account on Dashboard and get 14-days trial. Within this period you can use all of the features and test how e-screen works.
2
Install Android application on device
If your device has Android OS you can download our application from Google Play (https://play.google.com/store/apps) and use it instantly. If not, you can use any extrenal device that has Android OS (like Amazon Fire TV stick, for example). Download and install application and pair it with device that you created on Dashboard.
3
Make a presentation
Create a presentation that will be displayed on your device(s). You can use our advanced layout manager and create beautiful presentations using available widgets (media, text, webpage, QR code, calendar, weather forecats, youtube, etc.) to display content.
4
Schedule your content
You can create an advanced schedule of displaying presentations and enjoy full power of e-screen. On top of that you can make a schedule for months ahead and plan your activities ahead.
5
Enjoy!
Your screens are now working for you.
e-screen gives you the power to easily connect any screen and broadcast your content. This is the list of main features that make e-screen so powerful.
Remote access
You can use it from anywhere and seemingly switch devices from which you control your remote screens.
Cloud-based
No need to install app on your computer or phone. It is all in the cloud.
Advanced layout
You can create advanced layout and display multiple widgets on a screen. Easy as pie.
Awesome widgets
We offer a set of widgets that will help you communicate easily with your clients.
Scheduling
You can schedule presentations and have a dynamic content on your screens.
Security
All our services use SSL on all instances and very well planed architecture that protect user data.
Team collaboration
You can invite people to your team and collaborate on same projects.
Version history
You can revert your presentation's setting with a click. Be relaxed.
Runs offline
Your device will display your content even when it is offline!
Multi-language support
e-screen is localized to several languages so you can enjoy it even in your native language.
Fair pricing policy
You will be charged only for what you actually used - not a dime more!
Think green
Reduce your waste, think before you print or photocopy. No need for big posters, flyers or printed information.
Super-charge your screens using our awesome widgets. Display images, videos, weather forecast, QR codes, calendars, marquee texts, etc. with ease.
Media
Text
Webpage
Date
Weather
QR code
Youtube
How e-screen can help you?
The use of digital signage can increase sales, productivity, and improve customer experience and engagement in a variety of industries. The potential of e-screen goes beyond traditional communication methods.
Promote your business and products effectively
Digital signage is a popular form of boosting brand awareness and attracting new customers to your business. It allows business owners to reach a wider audience and engage customers with real-time targeted messages. Interactive displays make it easy for viewers to engage with your messages and learn more about your products and services.
Read more →
Engage and inform employees
The essential to the success of any business is keeping employees informed and motivated. Digital signage can help facilitate communication between you and your employees by providing important information to your entire team at once. This can help reduce turnover and increase productivity, helping you run your business more efficiently than ever.
Read more →
Build connections with partners and customers
During meetings or conferences, digital signs can be used to provide information about your brand or showcase your products. It can also be used as a handy way to communicate with your visitors by displaying directions to different conference rooms or other info, such as wi-fi passwords and event schedules.
Read more →
Improve operations
If you want to be competitive, efficient, and always one step ahead of the competition, much of your planning and strategy is about improving operations through digitizing your business. e-screen is a powerful tool that will help you manage your content effectively and ensure all your messages are displayed correctly to maximize operational efficiency.
Read more →
Curious to see how e-screen works?
Book a 30 minute demo with our digital signage expert and we will show you the power of e-screen.